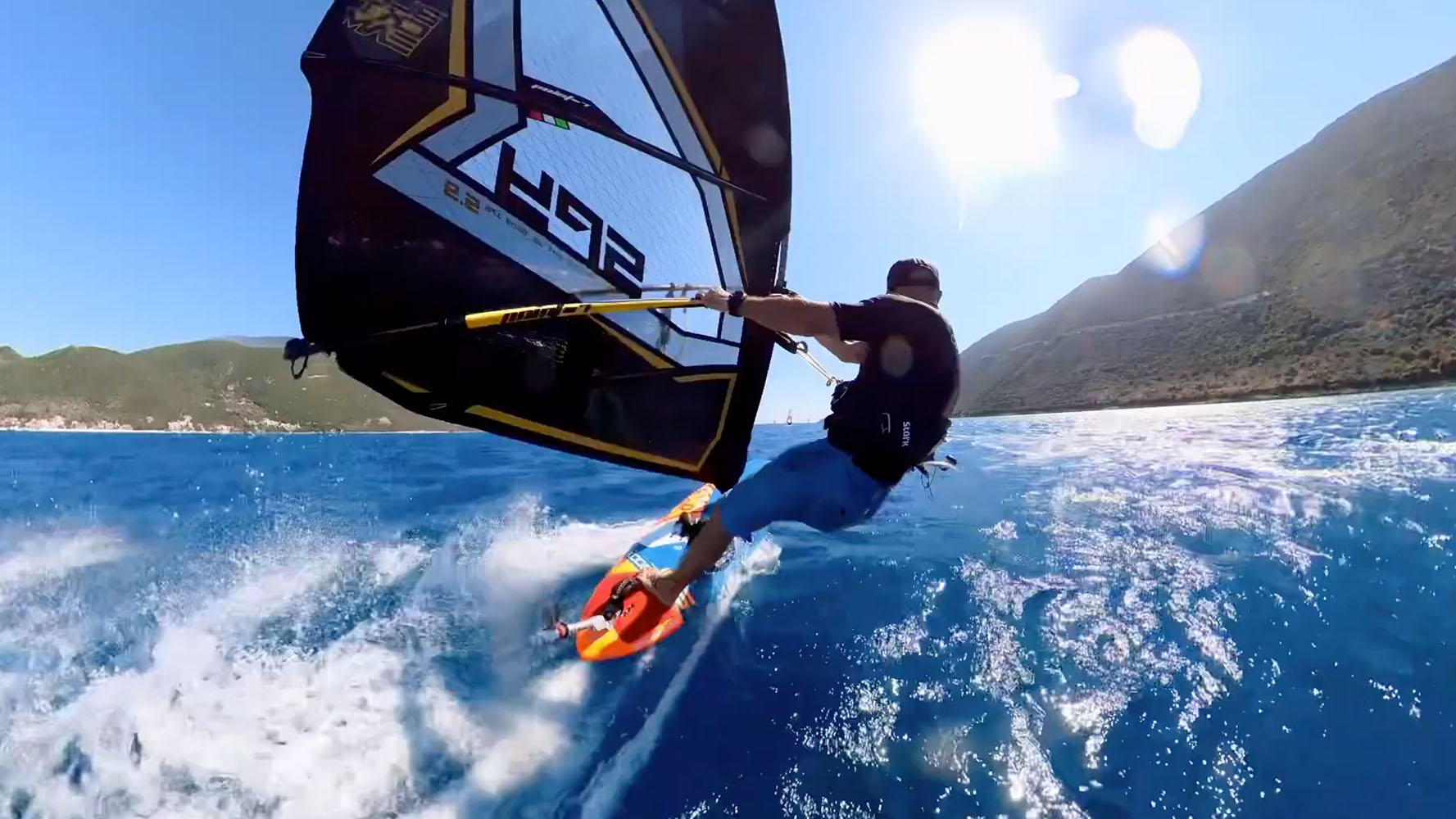 Camera mounts for:
Windsurfing
Get that impossible handsfree shot
Best camera mount for windsurfing
We at SailVideoSystem love windsurfing and capturing unique third-person shots with invisible selfie stick completely hands-free. Our Harness Mounts and Shoulder Mounts can be used with GoPro and Insta360 cams and other action cams.
Below you can see what mount will work best for you and your type of camera.
🎥 360 Video Camera (Like GoPro Max or Insta360)
✅ For a 360Video cam it is important that you have a camera mount with a straight camera pole.
Because if you mount your 360 camera in a straight line with the straight camera pole the pole becomes invisible to the camera.
Creating the illusion that the camera is floating in the air behind (or in front) of you.
🎥 Action Cam (Like the GoPro or many others)
✅ For a GoPro or regular action cam it is important that you have a camera mount with a curved camera pole.
The combination of the curved pole (and included mini ball head) will let you angle the camera in any position while still keeping the pole as much out of the frame as possible.
Best suited for windsurfing
Kite Windsurf 360 cams only
The Kite Windsurf All-in-One mount is a complete set perfect for windsurfing and kiteboarding that you can easily attach to your harness. (and is suitable for action and 360 cams)
If you plan on only using only a 360cam, we suggest you take a look at the Kite Windsurf 360 cams only.
Small, compact and for 360 cams
Shoulder mount
Our Shoulder Mount is a great small solution with a straight camera pole and is perfect for all 360 video cams.
The camera pole can be angled in many positions so it will look as if the cameraman is right behind you on the water. Great for wingfoil as well.
How to
Get the best 360 windsurf videos
Simon Cookie shows you everything you need to know about windsurfing.
Check out the video
Don't just take our word for it...
★★★★★

Versatility

Works better than expected. Bough it to be used with my harness (windsurfing) but ended up using it on my kayak. I just ordered 2 more, one for my harness and anotherone for my other kayak.
★★★★

Good product

Very good product, just one critic : the aluminium pod is strong but the gopro is gliding when fixed on it (for example when i fall, the camera is not aligned with the bar anymore).

Maybe a rubber solution could be possible
★★★★

Best gear ever

Really handy binding! Much better than bags which hinder your movements and shaking. My videos became much better!
★★★★★

Super for magic video

Unique object of its kind super convenient for the creation of
unique videos plus serious and reliable sales service even after sales
★★★★★

Great

Great mount and great service!! Mount is light, durable and easy to use!