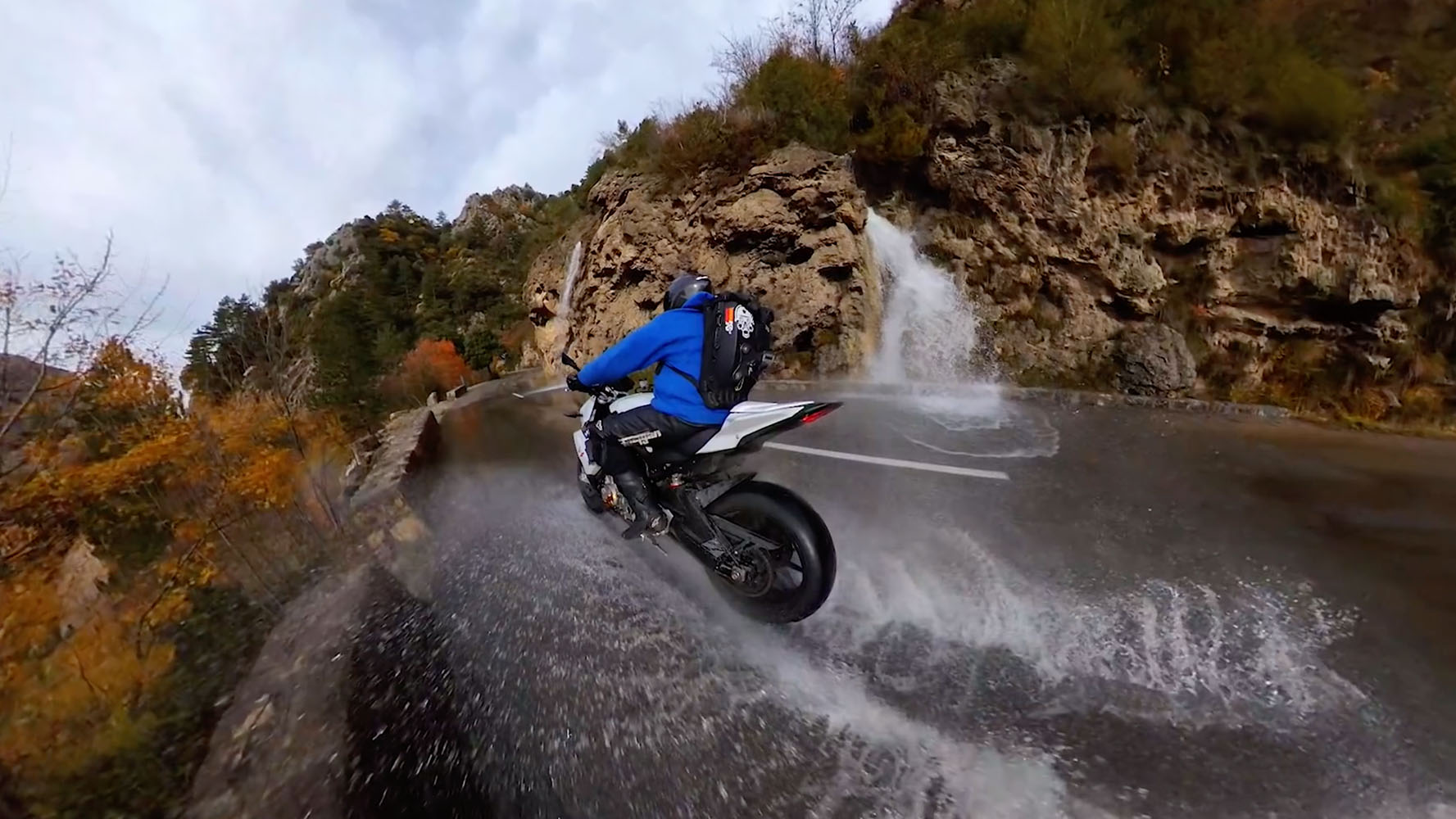 Camera mounts for:
Motor Sports
When stability and creative shots matter.
Best camera mount for motor sports
When you are into motorsports there are many ways to mount your camera so you can film yourself in action, completely hands-free. You can use a handlebar mount or Insta360 back bar, but there is a very big chance that will break due to vibrations.
Our SailVideoSystem 3rd Person Mounts and Shoulder mount are made of high-quality components and are worn around your body, creating a stable shot.
Below you can see what mount will work best for you and your type of camera.
🎥 360 Video Camera (Like GoPro Max or Insta360)
✅ For a 360Video cam it is important that you have a camera mount with a straight camera pole.
Because if you mount your 360 camera in a straight line with the straight camera pole the pole becomes invisible to the camera.
Creating the illusion that the camera is floating in the air behind (or in front) of you.
🎥 Action Cam (Like the GoPro or many others)
✅ For a GoPro or regular action cam it is important that you have a camera mount with a curved camera pole.
The combination of the curved pole (and included mini ball head) will let you angle the camera in any position while still keeping the pole as much out of the frame as possible.
For 360 Video and action cams
LITE V2 All-in-One
If you are planning to shoot with a GoPro or other action cam then the LITE V2 All-in-One can be a good option.

The belt system is snug around your waist and will let you connect the curved (or straight) camera pole at many angles.

This camera mount is also suitable for 360 video and action cams.
The most popular camera mount for Motorsports is the 3rdPersonView LITE V2 All-in-One that you can see below
HIGH-IMPACT MOTOR SPORTS
3rdPersonView 3pvX2 PRO mount
Do you need maximum stability and a high-impact mount? Then 3pvX2 Pro is the best mount for you. The stabilizer straps create extra support between the backplate and the camera pole, making it a stable setup.
Perfect for performing jumps and riding on sand or other rough road surfaces.
Impressive
Offroad adventure
In 2022 our 3rdPersonView camera mounts were also used in the Africa Race.
This is one of the toughest races in the world: 6500 Km through 5 countries.

And where the bikes broke down several times, the camera mounts did not!
Shop Now
Don't just take our word for it...
★★★★

Great mount

Epic mount enabling me to shoot myself in a different perspective!
★★★★★

Awesome!

Awesome mount to get even more awesome footage. The build quality is from high level. And with high speeds (+200 km/h motorcycle) the footage is still stable. Wearing it for a long time is not a problem since it fits comfortable.
★★★★★

Extremely well built and durable - have been using for four years now

The 3rdPersonView 3pvX2 PRO is extremely versatile. I've been using it with my sony a7s ii for over four years now. Not one issue. It's well crafted and comfortable.

I've put the rig on actors and documentary subjects. It's just well made and light. It's punches definitely above it's weight class.

This is the one to get.

I use mine in Brooklyn, NY, USA - if anyone wants to try it out.

Also Thijs's customer support is incredible!!
★★★★★

Amazing product.

The whole experience with you guys was amazing. Thanks for everything.