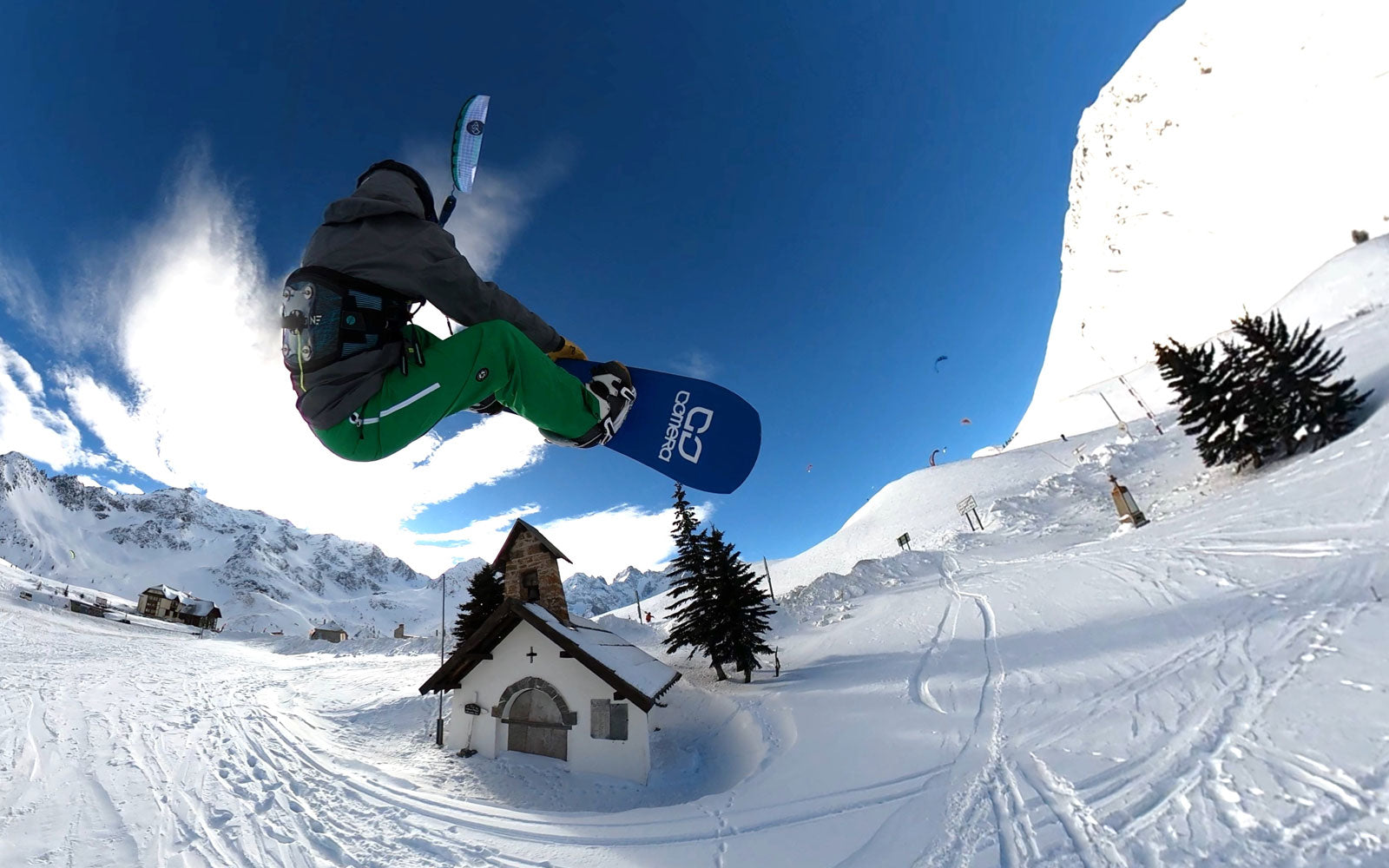 Position mount:
3rdPersonView.
How do you get that 3rdPersonView shot?
What is a 3rdPersonView camera mount?
Back in 2012 we came up with the idea to create a camera mount that would show ourselves in the shot while kitesurfing, a bit like in a video game. In gaming, this is called the 3rd person view...
So we called our camera mounts: 3rdPersonView camera mounts.
All the camera mounts that we make can create the effect that the camera is looking over your shoulder, so in a way, they are all 3rdPersonView camera mounts.
The main difference between our camera mounts is where they are placed on the body and what type of camera they are best suited for.
Below you can see examples of the different types of mounts and their possibilities.
3rdPersonView LITE V2 All-in-One
This is one of our more popular camera mounts that can be used with any type of action cam or 360 Video camera and has proven itself in many sports.
This system consists of a velcro belt system that goes tight around your waist with a curved backplate. The camera poles are connected with our patented connector and will let you set the camera pole in any direction or angle.
This set comes with a straight camera pole (for 360 video cams) and a curved pole with Mini Ball Head (for all action cams).
3rdPersonView 3pvX2 Pro
When you are shooting with a regular (or professional) camera and want to create that over-the-shoulder or front-facing snorricam shot, then have a look at our 3pvX2 Pro.

This is our sturdiest camera mount, which is worn around the waist and can handle many different types of (semi) professional cameras.

This mount is also advised for heavy-duty sports such as offroad motorcycling or surfing monster waves
Also suitable for action cams or 360Video cams.
1 million subscribers
Will Smith on the TONIGHT SHOW
To celebrate that Will Smith had 1 million subscribers on YouTube in just 3 months he was invited to the Tonight Show with Jimmy Fallon.
And the entire time he was wearing our 3rdPersonView 3pvX2 Pro mount and getting some funny looks and great shots.
3pvX2 Pro
Shoulder Mount
If you are looking for a small camera mount that is easy to take with you, and will still give you some great angles while shooting with a 360 video camera (like Insta360 OneX2 or X, or the GoPro Max)
Then this is the 3rdPersonView mount for you.
small, compact and stable
Shoulder Mount for GoPro Max or Insta360
If you have a 360 video camera and like to do many sports; on land, in the air, or on the water then check out what these shoulder camera mounts can do for you.
Get inspired
Game Like Videos
Jeremie Tronet (Professional Kitesurfer)) is very active and visible on Instagram due to his engaging content.
For this video he went all in for the GTA look and people love it:
28 million views and more then 2.7 million likes... Nice one!
Shot with GoPro Max 360 and...
Kite Windsurf All-in-One
Don't just take our word for it...
★★★★★

Simply amazing

Manage to get lots of shots from day 1 , it's stable easy to fix.

Good job thank you
★★★★★

Extremely well built and durable - have been using for four years now

The 3rdPersonView 3pvX2 PRO is extremely versatile. I've been using it with my sony a7s ii for over four years now. Not one issue. It's well crafted and comfortable.

I've put the rig on actors and documentary subjects. It's just well made and light. It's punches definitely above it's weight class.

This is the one to get.

I use mine in Brooklyn, NY, USA - if anyone wants to try it out.

Also Thijs's customer support is incredible!!
★★★★★

Great gadget

It's a great device for those who love perfect shots and great movies
★★★★★

Excellent!!!!

Comfortable fit on harness.
★★★★★

Unique object of its kind super convenient for the creation of unique videos plus serious and reliable sales service even after sales.