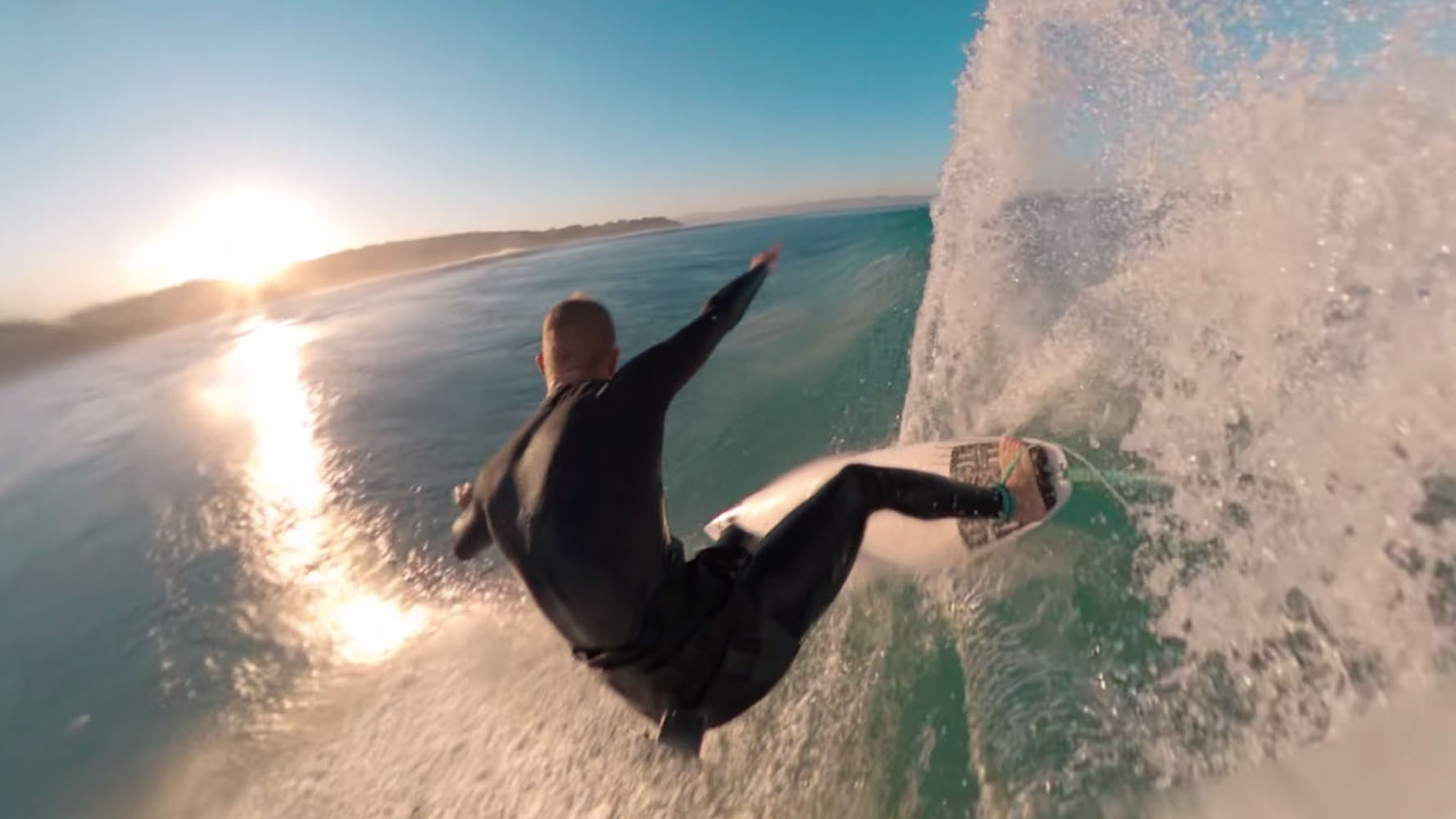 Camera mounts for:
Surfing
Get that impossible handsfree shot
Best camera mounts for surfing
We at SailVideoSystem love surfing and capturing unique third-person shots with invisible selfie stick completely hands-free. Our body mounts and shoulder mounts can be used with GoPro and Insta360 cams and other action cams.
Below you can see what mount will work best for you and your type of camera.
🎥 360 Video Camera (Like GoPro Max or Insta360)
✅ If you are planning to use a 360Video cam it is important that you have a camera mount with a straight camera pole.
Because if you mount your 360 camera in a straight line with the straight camera pole the pole becomes invisible to the camera.
Creating the illusion that the camera is floating in the air behind (or in front) of you.
🎥 Action Cam (Like the GoPro or many others)
✅ If you are planning to use a GoPro or regular action cam it is important that you have a camera mount with a curved camera pole.
The combination of the curved pole (and included mini ball head) will let you angle the camera in any position while still keeping the pole as much out of the frame as possible.
Small, compact and for 360 cams
Shoulder mount
Our Shoulder Mount is a great small solution with a straight camera pole and is perfect for all 360 video cams.
The camera pole can be angled in many positions so it will look as if the cameraman is right behind you in the tube.
For 360 video and action cams
LITE V2 All-in-One
If you are planning to shoot with a GoPro or other action cam then the LITE V2 All-in-One can be a good option.
The belt system is snug around your waist and will let you connect the curved (or straight) camera pole in many angles.
Creating that special 3rdPersonView shot.
Shop now
The LITE V2 All-in-One comes with a set of 3 camera poles:
● The base pole with the connector that connects to the backplate of the mount with a clamp at the end of the pole, to connect the second pole.

● A straight camera pole with 1/4" thread at the end (To connect a 360 video cam)

● A curved camera pole + mini ball head that will let you connect a regular GoPro or action cam. The curved pole will allow you to set the cam in any position you like (as you can see in the video above)
The combination of the belt and backplate system with the 3 poles makes this a great set for any surfer who wants to shoot with Action or 360Video cameras.
SailVideoSystem
3pvX2 Pro
Aditional options
The video above was shot by Chris Rogers using a special setup: the 3pvX2 Pro in combination with the 100% Invisible camera pole.
He wanted to shoot Dylan Lightfoot with a GoPro Max (a 360Video camera) with a shorter camera pole so he could still get in the barrels,
So he used just the bottom part of the 100% Invisible camera pole...
To watch the full video and the behind the scenes of the setup click the button.
Maximum stability
3pvX2 Pro
For extreme waves and maximum stability, you can also use our 3pvX2 PRO. This has our wide HDPE backplate that wraps more around your body to create the most stable shot.
This setup comes with a full set of curved and straight camera pole so you can use it with 360 and other cameras. And a set of stabiliser straps is also included. (These create extra support for the camera pole when in use with heavier cameras or extreme waves)
Don't just take our word for it...
★★★★★

Amazing product and service

The product itself is perfect and really stable, it works properly and its really easy to use.

The costumer service is on top, it reply within hours and helps you a lot
understanding the product functionality.

Really happy about it, so happy that I bought 3 of them!
★★★★★

This is UNREAL

I love this mount. I'm a surfer, onewheeler, triathlete and I can use this mount and record great memories from a great point of view very easy. Thanks for all the great support as well.
★★★★★

I love this new shoulder mount because it's light and very confortable, I even don't feel it when I'm riding !

The result is fantastic, the mount is very stable, the footages are clean and
nice !

I recommend this new shoulder mount for any sports, it's perfect !
★★★★★

Awesome!

Amazing real easy to install and use.